The Georgian era
Ireland's magnificent Georgian houses were built by an élite society, most of whom were descended from the New English. This architectural style had been developed on classical lines by Palladio, an Italian architect of the sixteenth century and became fashionable throughout Europe and the colonies. Thousands of houses, large and small were built in this style in Ireland during the reigns of the English kings George I to George IV (1714-1830), hence the name 'Georgian'. The façades were restrained and elegant while the interiors were more lavishly decorated with plasterwork, furniture, textiles and paintings.

The very rich lived in Palladian mansions. Emily and Louisa Lennox, daughters of the 2nd Duke of Richmond married into two of the most magnificent houses in Ireland in the eighteenth century. Emily married the Duke of Leinster and they lived at Carton House, Maynooth with a town residence in Dublin called Leinster House (now Dáil Éireann). Her sister Louisa Conolly lived at Castletown House, Celbridge. The two women carried on a lively correspondence which gives unique insight into the political and home lives of powerful families in Ireland and England in the eighteenth century. Emily married at sixteen and, over the next thirty years, gave birth to twenty-one children, one of whom was Lord Edward Fitzgerald, the 1798 revolutionary.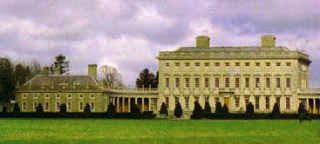 Castletown House
Great and medium size Georgian houses needed armies of servants. A young wife, often married in her teens, had to learn to manage a large staff, organise food, accommodation and entertainment for house guests as well as coping with a new family. She would select and supervise the care of valuable furniture, paintings, textiles, pottery, silverware and goldware.
For formal occasions she would wear fine clothes made from silk, gold brocade, fine linen, braid, ribbon and lace. Children were dressed like miniature adults.

 

Ladies Catherine & Charlotte
Talbot
JM Wright
National Gallery of Ireland

 

Chocolate pot
National Museum of Ireland

 

Sauceboat
National Museum of Ireland
These households gave new opportunities for employment to the less well-off and servants were generally well-treated. They lived and worked in the servants' quarters. Several Georgian houses had tunnels and sunken areas so that domestic chores would be invisible to visitors and servants could move around outdoors out of sight.

As long as the Irish Parliament sat in College Green, Dublin, the rural aristocracy and gentry created a demand for accommodation in the city. Magnificent Georgian terraced houses were built for them and a glittering social life centred around Dublin Castle until curtailed by the Act of Union, 1800. Similar houses were built in Limerick, Cork, Waterford and in smaller towns to be occupied by merchant and professional families or as dower houses for widows. Again, there were opportunities for thousands of women to gain employment as domestic servants often working in the basement kitchens and sleeping in the attics while the resident families used the other floors..
Roads and transport in Ireland had been improved and people travelled to visit each other more often. Much has been written about the wild, uncivilised lives led by some of the gentry at the time, their passion for 'huntin', shootin' and fishin'' and their riotous parties. Lord Orrery was not impressed by a dinner party he attended in Co. Cork in 1737.
I have been at a Feast. Paper mills, thunder and the King's kitchen are soft music to the noises I have heard. Nonsense and wine have flowed in plenty, gigantic saddles of mutton and ... rumps of beef weight down the table. Bumpers of claret and bowls of white wine were perpetually under my nose, till at last, unable to bear the torture, I took advantage of a health (the memory of King William III) at which we were all obliged to rise, and slipped away leaving a hat and sword to be my representative. I would have left a leg or an arm behind me rather than not have made my escape.
Quoted in Constantia Maxwell, Ireland under the Georges, Dundalk, 1949, p.42.
Maria Edgeworth complained about a time when,
... everyone ate and drank to excess, and when the conversation of the men dealt solely with horses and dogs and that of the ladies merely with dress and scandal.
Quoted in Constantia Maxwell, Ireland under the Georges, Dundalk, 1949, p.42.
But others had a great time. Mrs Delany went to a party at Plattin near Drogheda where she danced thirty-six dances from 7 p.m. till supper at midnight. After supper, two or three young ladies sang and she herself sang ''Hopped She', that occasioned some mirth.' At 2 a.m. the dancing began again and they went to bed at 8 a.m. Thomas Mathew of Thomastown, Co. Tipperary had forty guest rooms for his guests and other country houses had 'barrack rooms' for late-comers with rows of beds or mattresses on the floor.


Middle-class households in the Georgian era also led comfortable lives and they too could afford the wages of several servants.
Dorothea Herbert, whose father was rector at Carrick-on-Suir, recalled in her Retrospections that around the years 1781-5 the family servants numbered two or three nurses, a coachman, pantry boy, an apprentice boy, a dairy maid, housemaid, cook, a gardener and a housekeeper who was a 'wonderfully clever Confectioner, Lady's Maid and Nurse tender.'
Nuala Cullen, 'Women and the preparation of food' in Margaret MacCurtain & Mary O'Dowd, Women in early modern Ireland, Dublin, 1991, p.271.
The eighteenth century was a period of achievement in arts and crafts. Women were barred from the kind of training required to make it into the top ranks but better-off women learned the 'accomplishments' of drawing, watercolouring, needlework and musical performance. Women belonging to the families of artists and craftsmen sometimes picked up their skills. Susanna Drury's brother was a miniature painter and it was Susanna's paintings which brought the Giant's Causeway in Co. Antrim to the notice of a wider public in 1740. Engravings of her paintings circulating throughout Europe were so accurate and detailed that geologists could use them to study the rock formations of the Causeway.
Questions
Describe a Georgian house.
Discuss the likely value of the correspondence between Emily, Duchess of Leinster and her sister Louisa Conolly as historical sources.
Identify aspects of the dinner party in Co. Cork that annoyed Lord Orrery.
Identify aspects of the society of her day that annoyed Maria Edgeworth.
Suggest reasons why women were barred from training to be artists.
Discuss the value of a Georgian house as a historical source.
Activities
Do a project on Georgian houses. Organise a visit to a Georgian house.
Research the history of dance in Ireland during the early modern period.
Research the role of women in arts and crafts in Ireland during the early modern period.
Research any woman mentioned above.
Study the extract 'Stella Tillyard' in Documents at the end of this section.