Gráinne Ní Mháille (Granuaile) (c.1530-c.1603)
Gráinne Ní Mháille's career in sixteenth century Ireland was exceptional for a woman, but we may detect some aspects of the transition from early Irish to English law and customs in her experiences and deeds. The main sources for her life are to be found in English state papers and Mayo folklore since Irish annals and histories provide little or no information about her.
Gráinne retained her own name during her two marriages according to the Gaelic custom, but she acted with great determination in the interests of her husbands, both of them warlike and ambitious men.

She emerged as an aggressive leader of men on land and on sea, though neither Gaelic nor English law or custom provided for women in such a role. She assembled a force of two hundred fighting men and was reputed to have led fleets of up to twenty ships.

Rockfleet Castle
One of the strongholds of Gráinne Ní Mháille
Legend declares that her youngest son Tibbot na Long was born at sea and that Gráinne captained her crew against pirates the day after his birth. She placed her son in fosterage with local families.
She made, or pretended to make, a surrender to England while putting on a display of seafaring strength at Galway to impress and probably to intimidate Lord Deputy Sir Henry Sidney who reported:
There came to me also a most famous feminine sea captain called Granny Imallye and offered her services unto me, wheresoever I would command her with three galleys and two hundred fighting men, either in Scotland or Ireland. She brought with her her husband for she was as well by sea as by land well more than Mrs Mate with him ... This was a notorious woman in all the coasts of Ireland.
Sir Henry Sidney quoted in Anne Chambers, Granuaile, Dublin, 1988, p.85.
A few weeks later she set off to raid the territories of the Earl of Desmond in Munster. She was captured, tried before the Earl at Askeaton Castle and sent to jail where she languished for two years, first in Limerick and later in Dublin Castle. Widowed for the second time in 1583, Gráinne continued to live an eventful life. She came into conflict with the interests of the English in Ireland but also recognised how powerful they were. She believed that the Gaelic world needed to come to terms with them.

In 1593 Gráinne went to London with other Connacht notables to complain about English administration in their area. She begged Queen Elizabeth for pardon, for better treatment by the English and for the release from prison of her son and half-brother. She was asked to fill in a questionnaire.

Question 11. How she hath maintenance and living since her last husband's death.

Answer. After the death of her last husband she gathered together all her own followers and with 1,000 head of cows and mares departed and became a dweller in Carrigahowley ... and in the year 1586 after the murdering of her son Owen, the rebellion being then in Connaught ... as she travelled was encountered by the five bands of soldiers ... apprehended and tied in a rope ... and brought to Sir Richard [Bingham] who caused a new pair of gallows to be made for her last funeral where she thought to end her days. She was let at liberty upon the hostage and pledge of one Richard Bourke [her son-in-law] otherwise called the Devil's Hook ... received her Majesty's pardon ... Ever since she dwelleth in Connaught a farmer's life very poor ... utterly did she give over her former trade of maintenance by sea and land.
State Papers, Elizabeth I, quoted in Anne Chambers, Granuaile, Dublin, 1988, p.203.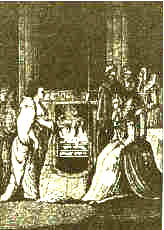 Gráinne Ní Mháille meets Elizabeth I in London
Anthologia Hibernica Vol. II, 1793
The concessions Queen Elizabeth made to Gráinne did not deter her from returning to her old trade of 'maintenance by sea and land' and in her late sixties she was reported to be still plundering off the coasts of Ireland and even of Scotland.


Questions
Write a brief paragraph on Gráinne Ní Mháille.
Suggest reasons why the Irish Annals did not record the career of Gráinne Ní Mháille.
Activities
Research the career of Gráinne Ní Mháille.
Role play the interview between Gráinne Ní Mháille and Elizabeth I.
Make a collection of drawings and paintings based on the career of Gráinne Ní Mháille. Arrange them in a display in the manner of a serial or comic strip.