Australia
Under the Female Orphan Emigration Scheme of assisted emigration, 4,175 teenage orphan girls left Irish workhouses for Australia in the years 1848-1850.

Great numbers of young people were lodged in Irish workhouses during the famine because their parents had died, emigrated without them or abandoned them. The British government grew concerned as did the local ratepayers who paid to support the workhouses. The problem of 'surplus' young females was particularly worrying: there were more than twice as many able-bodied females in workhouses as males. The employment and marriage prospects of these women were poor and it was feared many would become pregnant, in which case they and their children would be a further burden on the rates.

Due to its origin as a convict colony, there was a serious surplus of white males in Australia. There were two males for every female, and eight to one in some rural areas. There was a shortage of domestic servants also. The government agreed to a scheme under which teenage girls in workhouses would volunteer to emigrate to Australia under strict supervision.

Lieutenant John Henry inspected the girls who volunteered at each workhouse and selected those he considered healthy-looking and well-behaved. The Poor Law Union had to supply each chosen girl with a large box containing requirements for the long voyage and for permanent residence on the far side of the world.
OUTFIT FOR EACH OF THE EMIGRANTS

6 Shifts
2 Linen Collars
6 Pairs of Stockings - two worsted and 4 cotton
2 Aprons
2 Pairs of Shoes
1 Pair of Stays
2 Gowns, one of warm material (woollen plaid)
1 Pair of Sheets
2 Short Wrappers
1 Pair of Mitts
2 Flannel Petticoats
1 Bonnet
2 Cotton do.
Day and Night Caps
1 Stout Worsted Shawl and a Cloak
2 Towels
2 Neck and 3 Pocket Handkerchiefs
2 lbs. of Soap

Combs and Brushes, Needles, Thread, Tape, & c., and whatever other little articles (such as a few yards of cotton or calico) the Matron may know young females to require.

Books:- Bible and Prayer Book for Episcopalians, Bible and Psalm Book for Presbyterians, Bible (Douay) and Prayer Book for Roman Catholics.

One box for each Emigrant - length 2 feet, width 14 inches, deep 14 inches, with lock and key, to be painted, and the Emigrant's name painted in the front, and a catalogue of the contents pasted on the inside of the lid.

All the articles to be new, of good quality, and of various patterns. The boxes should be strongly made, so as to bear a long voyage, and besides being locked they should be strongly corded.
Quoted in Trevor McClaughlin, Barefoot and pregnant? Melbourne, 1991, p.89.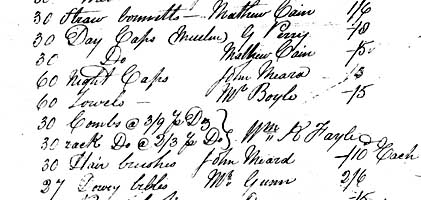 Part of an order list for orphans' outfit
Offaly County Library
The girls, aged 13 to 18 with their new possessions set off in horse transport for the nearest port from where they sailed to Plymouth on the south coast of England, and thence to Sydney - a voyage of several weeks by sailing ship.

At Sydney, they were brought to Hyde Park Barracks (restored as a museum in 1998) where the Sydney Orphan Committee supervised them, investigated prospective employers and dealt with subsequent problems. The girls were soon recruited as domestic servants.


Hiring immigrants at the Depot, Hyde Park
'Hiring room' 'Signing her agreement' 'Goodbye Mary'.
Detail Town & country journal. State Library of New South Wales
The Female Orphan Emigration Scheme ran into several difficulties:
exaggerated emphasis on a few scandals
reports that some of the girls were wild, disorderly and disobedient
problems making the transition from mud cabins and workhouses to life in middle class homes
growing respectability of Australian people unhappy about further connections with convicts and workhouses.

Eliza Dooley
Eliza emigrated on the Female Orphan Emigration Scheme and lived to be photographed in the early 20th century. 


Courtesy of Russell Blanch

The scheme was quite well organised but criticised so much for the reasons above, that it lasted for only two years.

Many descendants of the orphan girls have traced them through genealogical programmes and preserved photographs of those who survived into the early twentieth century.

Research has shown that the orphan girls married at nineteen years of age on average, the majority of them to older men and that most had large families.

Tragedies in early life may account for the small, but higher than average number who became alcoholics or suffered from mental illness in later life. Were the girls better off in Australia than in Ireland, taking all the circumstances of the time into account?
Questions
What caused the problem of surplus females in the workhouses in the years 1848-50?
Why were the authorities concerned about the problem of surplus females in the workhouses?
Why was there a serious surplus of males in Australia at that time?
Write a paragraph stating your opinion on the outfit provided for each of the emigrants.
Suggest three features of the document Outfit for each of the emigrants which reveal that it was not designed for a voyage in our times.
Would you have supported the Orphan Emigration Scheme as a solution to the problems in Ireland and Australia at the time? Give reasons for your answer.
Why did the Orphan Emigration Scheme run into difficulties?
Briefly outline the consequences of the scheme for the girls who emigrated.
Activities
Role play a conversation between Irish ratepayers about the problem of surplus females being supported in the workhouse.
Role play a conversation between British politicians about the gender imbalances in Ireland and Australia.
Role play a conversation between orphan girl emigrants at any point in their stories.
Make a picture based on the box and outfit for each emigrant.
Write an imaginary letter from one of the orphan girl emigrants to a friend.
Australians, Ann and Russell, were amongst those who traced separate descent from Ellen and Eliza who left Birr Workhouse on the Orphan Girl Emigration Scheme in 1850. Ellen married an Irishman from Tipperary who had been transported for highway robbery and they later ran a tavern. Eliza married an Englishman from Kent and they eventually ran an inn near a goldmine. Write an imaginary letter from Ellen to Eliza during their married lives.
Write the article Ann or Russell might write about 'Our orphan ancestors.'
President Mary McAleese opened the newly restored Hyde Park Barracks in 1998. Research her speech on that occasion on the Internet.
Research emigration from Ireland to Australia on the Internet.
Research emigration from your own area to Ausralia.


Interview someone connected with emigration to Australia.