Dáil Éireann 1919-22
Constance Markievicz was still in prison when the Dáil met for the first time on 21 January 1919 but she was released to another tremendous welcome and was present on 1 April when she was appointed to the Cabinet as Minister for Labour.
The Anglo-Irish War or War of Independence also began on 21 January 1919 and Cumann na mBan organised and trained their ever increasing numbers in keeping with their aims. The conflict developed into guerilla warfare. The IRA was organised into 'flying columns' and women committed themselves to the tasks of arranging transport and 'safe houses' for the 'men on the run.' Women scouted and carried information, guns and ammunition to the fugitive men and fed and nursed them.
Women lost their jobs, they were harassed, their houses were raided and they were terrorised in the middle of the night by the Black and Tans. Husbands and other male relatives were murdered in front of them in their own homes. A woman sitting on a wall with her children near Gort, Co. Galway was fired on indiscriminately from a lorry and killed. Many women were arrested and imprisoned and some escaped from jail. They kept prayer vigils outside prisons when men were to be executed. They acted as arbitrators at Sinn Féin courts. They raised funds, organised relief, gave evidence to international inquiries and helped put the case for Ireland's independence to the world. Negotiations for a treaty began after a Truce was called in July 1921.
The Anglo-Irish Treaty was signed in December 1921 after long negotiations. In the bitter Dáil debate that followed, the six women members of the Second Dáil unanimously opposed the Treaty but the Dáil approved it on 7 January 1922 by a majority of 64 votes to 57.
Cumann na mBan was the first national organisation to reject it: their executive by a majority of 24 votes to 2 and their convention in February 1922 by 419 votes to 63. Their membership which had peaked at about 9,000 in 1921 was now split, but perhaps less than most other national groups. The majority viewpoint in Cumann na mBan was that members had sworn allegiance to an Irish Republic, that this was what people had died for, that what was offered was merely an Irish Free State in which Dáil deputies would swear allegiance to the British crown. Their opponents claimed that the Treaty was a stepping stone for negotiations in the future.
Jennie Wyse Power, a veteran of Irish and women's politics since the time of the Ladies' Land League, supported the Treaty and resigned from Cumann na mBan. Many wives and women relatives of pro-Treaty politicians also resigned and they set up a small alternative group called Cumann na Saoirse.
Women members of the Dáil emphasised that they were voting against the Treaty on principle, and some spoke of their executed and murdered relatives and friends. Kate O'Callaghan referred to the murder of her husband Michael who had been mayor of Limerick:

When it was found that the women Deputies of An Dáil were not open to canvass, the matter was dismissed with the remark: 'Oh, naturally, these women are very bitter.' Well, now, I protest against that. No woman in this Dáil is going to give her vote merely because she is warped by a deep personal loss ... This Treaty, which we are told gives us the substance of freedom, to my mind puts Ireland on a Dominion status within the British Empire. Now what have all these hundreds of years of struggle been for? What has been the agony and the sorrow for? Why was my husband murdered?
Mrs Kathleen O'Callaghan in Treaty Debates, public session, 20 Dec. 1921.

Mary MacSwiney
Mary MacSwiney, sister of Terence MacSwiney the lord mayor of Cork who died after 74 days on hunger strike in prison, declared:
It is those who stand for the spiritual and the ideal that stand true and unflinching, and it is those who will win - not those who can inflict most but those who can endure most will conquer ... The peoples of the world know that peace can never be established except on the basis of truth and justice to all alike.
Mary MacSwiney in Treaty Debates, public session, 21 Dec. 1921.
Reconciliation between opposing groups was not forthcoming at this time.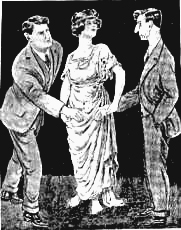 'If only -'
Cartoon. Dublin Opinion
Questions
Describe the activities of Cumann na mBan during the Anglo-Irish War.
Suggest reasons why the majority of Cumann na mBan rejected the Treaty.
Discuss briefly the members of Cumann na mBan who supported the Treaty.
Explain the significance of the Dublin Opinion cartoon?
Activities
Write a speech for Constance Markievicz to be delivered on 1 April 1919.
Write a letter from one Cumann na mBan member to another discussing the dilemma of the Treaty.
Write a speech for Jennie Wyse Power to be delivered at a Cumann na mBan meeting.
Write a speech for an opponent of the Treaty to be delivered at a Cumann na mBan meeting.
Research on the Internet the contribution of women members of Dáil Éireann during the Treaty Debates.
Discuss the use of female symbolism in political propaganda.