President of the INTO
The Irish National Teachers' Organisation (INTO) was founded in 1868 to represent the interests of education and of teachers in Ireland. Women teachers were members from the beginning. Catherine Mahon NT (1869-1948), became the first woman President of the INTO in 1912. As a teenager Catherine attended the Convent of Mercy, Birr, a fairly large convent school with an average of 200-300 pupils in the 1880s. She was a good student and in 1884, aged 15, she sat for a competitive examination by the district inspector and was appointed monitor. This system made it possible for Catherine, the eldest of seven, to enter teaching, as her parents could not afford to send her to Training College.
As a monitor for five years, Catherine taught for up to three hours every day and for the rest of the time was taught with the other pupils of the school. She probably got additional instruction from her teacher before or after ordinary school hours or on Saturdays.

Catherine Mahon

In 1890 Catherine sat for the King's Scholarship Examination which was highly competitive. There were three rates of pass in the examination - first, second and third - and Catherine was placed in third class, second division, and was now qualified to teach in a national school.

Catherine began teaching in the early 1890s at a time when teaching was regarded as an extension of women's caring role in the home, helping to prepare them for their future roles as wives and mothers. Women were considered to be especially suited to teaching young children. F.H. Dale who inspected Irish national schools in 1905 stated:
If there is any point of agreement among all interested in education, it is that a man, both by temperament and training is unfitted to teach infants and the charge of them should be entrusted to women ... nor can it be reasonably expected that a man should possess that patience or sympathy with very young children which are natural to even an unskilled woman teacher.

Quoted by William Starkie in History of Irish Primary and Secondary education during the last decade, 1911, p. 14.
William Starkie, Resident Commissioner of National Education for Ireland agreed and declared in 1911,
A woman, though unskilled, has a natural sympathy for babies; she understands their ways and even if she can teach them little, she knows how to make them happy.
William Starkie in History of Irish primary and secondary education during the last decade, 1911,p. 16.
Catherine's subsequent career belies these patronising remarks as she quickly made her way up the educational ladder. She became the Principal of Carrig NS in 1892 and by dint of hard work and private study qualified as a first-class teacher in 1899. Living at a time of great social and political change, Catherine became a member of several suffrage societies, a committed Home Ruler and enthusiastic supporter of the Gaelic League and of other national movements.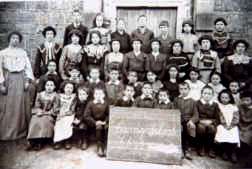 Catherine Mahon with the pupils of Carrig NS
Photo taken in the early 1900s
Questions
Catherine ____ became the first ____ president of the ____ in the year ____.
Summarise the career in education of Catherine Mahon (1869-1948).
Activities
The class role plays the occasion of a brief lecture by Catherine Mahon to women teachers in 1912. The subject is The teaching profession and why women should join the INTO. One student, role playing Catherine Mahon, prepares and delivers this lecture. Other members of the class introduce the speaker, ask questions, propose a vote of thanks and have an informal chat after the meeting.
Refer to the information on Catherine Mahon in Trade unions in the Later modern section.