Public opinion
Apart from Ulster there was no evidence of a widespread demand by Irish parents for second level education for girls prior to 1878. In its comments on the new Bill, the Irish Times concentrated on the

... need for new reasonably cheap schools for the sons of struggling professional or business men.
Editorial, Irish Times, 27 June 1878.
But its attitude towards similarly placed girls was different.
Woman is in her natural, most becoming and best place when at home.
Editorial, Irish Times, 21 June 1878.
When it became apparent that there would be complete equality for girls and boys in these examinations, Irish MPs sharply disagreed.
The cry for Intermediate education in Ireland had no reference whatever to girls ... the education of boys is of much greater importance.
Isaac Butt, Leader of the Home Rule Party during the debate on the Intermediate Education (Ireland) Bill, House of Commons, 12 August 1878.
Catholic Bishops generally supported this attitude also and their leader Cardinal Cullen stated in 1878, that while boys in Intermediate schools would train for their future careers and occupations,
... to which men only can aspire, girls went in a very different direction and required other sorts of training and teaching.
Cardinal Cullen, 1878.
Cardinal Cullen died in late 1878 and this left the Catholic bishops in disarray. Convent schools looking for guidance or permission from their bishops to enter the system were met with uncertainty and only seven convent schools featured on the first Results List in 1879.
... I am perplexed by this very grave matter ... and instinctively recoil at the idea of having young girls subjected to public examinations.
The Bishop of Galway in a letter dated 21st Feb. 1879 to M.H. Mc Auliffe, Dominican Convent, Galway.
While many girl students did not enter for the Intermediate examinations, they did use the Intermediate textbooks in the various classes and the house examinations were based on them. This attitude towards the effect of public examinations on girls still remained among some of the clergy in the late 1880s as is clear from the following:

The public examination of girls must, from the very nature of things, be conducted more or less at the expense of maidenly modesty ... They have to travel sometimes to distant 'centres' to mingle with strangers; in fact, they must rough it for a week or more without adequate protection.
Editorial, Irish Ecclesiastical Record, 1888.
Catholic boys' schools entered enthusiastically for these examinations however, as did both girls and boys from Protestant schools.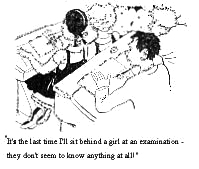 'It's the last time I'll sit behind a girl
at an examination - they don't seem
to know anything at all!'
Cartoon in Dublin Opinion,
mid 20th century
Questions
What were the main objections to second level education for girls in the years 1878-1888?
Activities
Write a letter to an Irish newspaper during the period 1878-1888 on the topic of girls' education.
For more information about public opinion at this time, refer to Newspaper comments in Ireland and to Intermediate Education Act, 1878. in Documents at the end of this section.
Research the Intermediate Education Act, 1878.