Growth of university education for women.
Nonetheless, despite all these obstacles, the first nine Irish women graduated from the Royal University of Ireland in 1884: five gained honours and four passed. Most of these women had received some of their teaching in Alexandra College, including Charlotte Taylor, the first woman B.Mus. in the UK.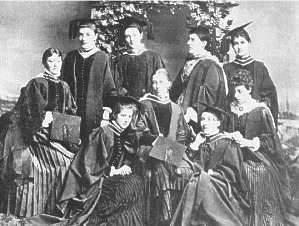 'The Nine Graces'
Ireland's first women graduates. Royal University of Ireland, 1884
Courtesy Alexandra College, Dublin
Alice Oldham, who received part of her university teaching in Alexandra College and part in the Royal College of Surgeons, was one of these first nine women graduates. Mary Hayden, a second year student of the Royal University of Ireland, wrote about the event in her diary:
... the long procession of hooded and gowned male graduates ... the girls coming last. As soon as they appeared, there was a burst of applause. They looked exceedingly well in their black gowns, hoods lined with white fur and tasseled caps, even the plain ones, and the ordinary looking ones appeared to advantage ... The Duke [of Abercorn] arose and made a rather long speech - quoted that hackneyed old line about 'sweet girl graduates'.

Jessie Twemlow, Marion Kelly, Miss Sands and the Chief [Isabella Mulvany] looked especially well; not a bit the typical blue stocking which I was glad to see, since Chief Justice Morris having only seen Alice Oldham, pronounced them 'an ugly lot'.
Diaries of Mary T. Hayden, 22 Oct. 1884.

Alice Oldham
Courtesy Alexandra
College, Dublin

Mary Hayden
Courtesy Alexandra
College, Dublin
By 1895 there were five women's colleges. These were:
Victoria College, Belfast (1859), originally Mrs. Byers' Ladies' Collegiate School
Alexandra College, Dublin (1866)
Dominican College, Eccles Street, Dublin (1885), later transferred to Merrion Square (1893) where it was called St. Mary's University College
St. Angela's College (Ursuline), Cork (1892)
Loreto College, St. Stephen's Green, Dublin (1894).
Their graduates included many who were to become pioneering women in varying fields of activity: Hanna Sheehy Skeffington, founder member of the Irish Women's Franchise League, Agnes O'Farrelly, co-founder of Cumann na mBan, Mary Hayden, first woman Professor of Irish History in UCD, Louise Gavan Duffy, founder of Scoil Bhríde, the first all Irish school, Mary Colum, author of Life and the Dream, Nora Meade, first woman journalist on the staff of the New York World and Mollie Kiernan, manager of the Irish School of Wireless.
Questions
Nine Irish women sat for their first ____ _______ __ _____ degree in the year _____. Five gained ____ and _____ passed.
Name the five women's colleges in Ireland in 1895.
Activities
Write an article suitable for publication in 1884 publicly congratulating Alice Oldham and the other eight women graduates of the Royal University of Ireland in 1884 and outlining the difficulties still encountered by women students in higher education in Ireland.
Draw or paint the graduation scene described by Mary Hayden in 1884.
Refer to Mary Hayden's description of the first graduation from the Royal University of Ireland in Degrees for women in Documents at the end of this section.
Write a report of the 1884 graduation scene for a newspaper.
Research any of the women's colleges mentioned above.
Research any of the women graduates mentioned above.
Research Mary Hayden.