The Home Rule Bill

English suffrage groups turned against Prime Minister Asquith and the Liberal Party Government because they had let them down on the issue of votes for women. However Asquith remained in power with the support of John Redmond and the Irish Home Rule Party who held the 'balance of power' in Parliament. In return he promised Redmond a Home Rule Bill for Ireland.
From time to time, Irish suffrage groups organised lecture tours for English suffragists and suffragettes while Irish campaigners also spoke at meetings in England. However political developments soon made the links between Irish and English feminists rather complex.
Most women and men in Ireland at this time were Nationalists who wanted Ireland to have Home Rule
Most Irish feminists wanted votes for women in an Irish parliament of one kind or another
Irish Unionist women and men did not want Home Rule
Both Unionist and English feminists wanted the vote from the UK parliament.
Now the whole issue of votes for women became hopelessly entangled with the Irish Home Rule Bill.
Prime Minister Asquith and John Redmond, leader of the Irish Parliamentary Party with a combined majority in Parliament had no notion of allowing women's suffrage and when this became obvious, feminists on both sides of the Irish Sea, including the IWFL, were outraged.
Women's suffrage will, I believe, be the ruin of our Western civilisation. It will destroy the home, challenging the headship of man, laid down by God. It may come in your time - I hope not in mine.
John Dillon, Deputy Leader of the Irish Parliamentary Party to Hanna Sheehy Skeffington, quoted in Maria Luddy, Hanna Sheehy Skeffington, Dublin, 1995, p.20.
John Redmond was followed around from meeting to meeting. He was surprised in corridors of hotels. Even at the bridge opening ceremony in Waterford he could not get away from them. He was asked by a Mrs Bryan and a Miss Hayes, 'When do you mean to open a bridge for the women of Ireland?'
Cliona Murphy, The Women's Suffrage Movement and Irish Society, London, 1989, p.174.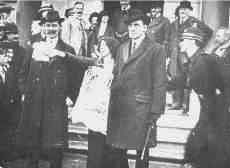 Meg Connery presents a petition to Ed. Carson
& John Redmond on the steps of Iveagh House
National Photographic Archive of Ireland
OUR SPECIAL
ST. PATRICK'S DAY CARTOON

Hurro! For Liberty!!!
No Irish woman need apply
No votes for women
By order
The new Liberator

The Irish Citizen
Equal rights and duties for men & women

THE ANGEL OF FREEDOM


Cartoon satirising John Redmond Votes for women

 
On the 4th of May (1910) an immense demonstration of American women. numbering 10,000 at least, took place in New York and amongst the demands they put forward was one for the extension of the vote to Irishwomen in the Home Rule Bill
Irish Citizen, 25 May 1912.
Nineteen Irish women's organisations were represented at a mass meeting in Dublin in June 1912. Then militancy in Ireland swung into action. Hanna Sheehy Skeffington and Margaret Cousins with six other members of the IWFL smashed government windows in the GPO, the Custom House and Dublin Castle. They were arrested, charged and sentenced to jail.

On 13th June, at 5 a.m., eight members of the IWFL marched off to their pre-arranged targets: the windows of the GPO, the Custom House and Dublin Castle. While planning the attack Hanna had asked for Dublin Castle, potent symbol of British rule over Ireland, to be hers, avenging 'the treasured wrongs of fifty years.' The small and dirty window panes near the Castle Gate proved difficult to break, and the garrison was close enough to arrest her before she had done too much damage. The policeman who grabbed her arm assumed she was right handed and the left handed Hanna, still clutching her cherrystick, quickly got in 'a few more panes' before the Castle military arrived and she and her companion, Margaret Murphy were led off to Chancery Lane police station.

Margaret Ward, Hanna Sheehy Skeffington: a life, p.83.


Nothing for their 'panes'
Irish Citizen, 1912
Prime Minister Asquith came on a visit to Dublin in July 1912 to support Home Rule and women were banned from the Theatre Royal where he was to address a large gathering. Frank Sheehy Skeffington gained entrance dressed as a clergyman and demanded votes for women before being thrown out. Mary Leigh and Gladys Evans, members of the WSPU over from England for the occasion, threw a hatchet at Asquith and John Redmond travelling in a carriage and grazed John Redmond's ear. The women were sentenced to five years imprisonment and went on hunger strike in Mountjoy Jail.

Gladys Evans
Personally I am dead against forcible feeding which always ends with the release of the prisoner long before her time. I want to keep these ladies under lock and key for five years and I am quite willing to feed them with Priest's Champagne and Michaelmas Geese all the time if it can be done ... but these wretched hags ... are obstinate to the point of death.
Augustine Birrell, Chief Secretary for Ireland to John Dillon. Quoted in Rosemary Cullen-Owens, Smashing Times, p.64.
The attack on Asquith and Redmond was widely condemned. Even the IWFL were embarrassed. Some of their members were assaulted as a result and they lost supporters though James Connolly, the labour leader, encouraged them by subsequently appearing on their platform in the Phoenix Park. However, four IWFL members still in prison since their window-smashing offences in June went on hunger-strike in sympathy when force-feeding was inflicted on the English women.
No other women were force-fed in Ireland and it was generally accepted that women in Irish prisons received better treatment than those in English prisons. In all, thirty six women were imprisoned during this campaign and several went on hunger-strike for political prisoner status. Some were sent to Tullamore Jail to remove them from the public eye, but:
The Daily Express reported in February 1913 'The Tullamore Urban Council have passed a resolution demanding political treatment for Irish suffragist prisoners.' As it turned out the provincial people of Tullamore soon became suffrage conscious. Suffrage prisoners were visited by all the notables of Tullamore society. Their visitors included the wives of the school inspector and the chairman of the Urban Council ... The Methodist minister in Tullamore requested the [prison] governor if he could have prisoners, Cousins and Connery, to breakfast on the morning of their release.
Cliona Murphy, The Women's Suffrage Movement and Irish Society, p.94.
In a letter to the chairman of the Prison Board, Margaret Cousins asserted 'I am not a criminal but a political prisoner - my motives were neither criminal nor personal - being wholly associated with the agitation to obtain Votes for Women. I shall fight in every way in my power against being branded a criminal.' She claimed 'I felt very privileged in being in the historic line of the political prisoners of Ireland who fought for proper status, I could not sell the pass they had won.
Cliona Murphy, The Women's Suffrage Movement and Irish Society, p.97.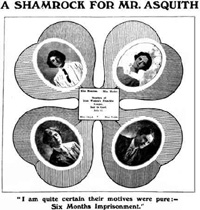 A shamrock for Mr Asquith
'I am quite certain their motives were pure:- Six Months Imprisonment'
Irish Citizen 1912
English suffragettes also targeted the Ulster Unionist Party and set fire to buildings in the north of Ireland when they discovered that Unionist leader Edward Carson was opposed to votes for women.