Other Suffrage Groups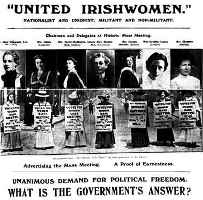 click for larger image
Irish Citizen June 1912
Several other suffrage groups were formed in towns around Ireland. Well-known authors Somerville and Ross were among the leaders of the Munster Women's Franchise League based in Cork which set up branches and held meetings around the South of Ireland.
Many suffrage groups from all over Ireland united in the Irishwomen's Suffrage Federation formed in 1911 by Louie Bennett and Helen Chenevix. The Federation was formed to link up the various suffrage societies in Ireland, to facilitate their work and enable it to be carried out more systematically as well as to bring women of all classes, creeds and political opinions into closer contact with one another.
The following Societies have joined the Federation:

Irish Women's Reform League, Dublin;

Munster Women's Franchise League, Cork with branches in Limerick, Waterford, Tralee, Skibbereen and Nenagh;

the Birr, Roscrea, Kilkenny, Galway, Sligo, Belfast, Lisburn, Newry and Warrenpoint, Londonderry, Armagh, Portrush, Bushmills, Ballymoney, Larne, Coleraine, Holywood and Whitehead Societies.

From a prospectus for the IWSF, quoted in Did your granny have a hammer??? A history of the Irish Suffrage Movement 1876-1922, p.6.

Suffrage map of Ireland
Irish Citizen
There were also organisations for those who opposed votes for women. The Duchess of Abercorn and other titled ladies headed a Women's National Anti-Suffrage League.
The Antis believed that women were mentally and biologically inferior and would not be able to cope with the stress of political life. Their place was in the home - the private sphere - and enfranchisement would cause dissension between husband and wife.
Cliona Murphy, The Women's Suffrage Movement and Irish Society, p.131.
Ask a woman in rural Ireland if she is a suffragist and she will laugh in your face - or else wonder what you are talking about. In our country districts, life is a serious proposition and the country woman is not fitted either by nature or inclination for the pursuit of a sex-obsession.
Anti Suffrage Review, Dec. 1912. Quoted in Cliona Murphy, The Women's Suffrage Movement and Irish Society, p.131.